By Uwaz
3 Wick Large Baguette Statement Candle
3 wick Baguette candle is a statement piece in any room.
We use natural wax in all our candles with eco-friendly wood wicks. The wood  wick makes a relaxing, soft crackling sound when they burn, reminiscent of a fire wood, as well as offering a longer and cleaner burn.
With our wood wick candles, you get to experience and evoke the senses of sight, smell and sound.
Product Information:
• 1.2kg (100% Plant-Based Wax)
• Over 200 hour burn time 
• Made in London (UK)
• Vegan & Cruelty-free
Velvet Rose and Oud;
Our Velvet Rose & Oud natural wax candles are a great scent to combat any usual scent in your home. It's very strong and subtle, great scent to burn when cooking unpleasant food. Each candle creates a luxury and distinctive long-lasting scent for you home.
Top note: Oudh, rose, geranium, jasmine, clove and praline.
Heart notes:  Rich velvety base of cedarwood, sandalwood, vetiver, amber, and musk.
Base note: Vanilla, patchouli and a hint of raspberry.
Self Love- Lemongrass and Ginger;
Self-love is that candle that will give you a sense of self care, Spa Day type of vibe! The candle is full of lavish fresh scent of lemongrass and Ginger that will fill a room. The scent is long lasting, and it made with LOVE. 
Top Note: Tangy lemongrass, Sicilian lemons and juicy limes
Middle Note: Spicy ginger root and grated nutmeg, with a hint of refreshing eucalyptus.
Base Notes: Sensual patchouli, white woods and creamy vanilla.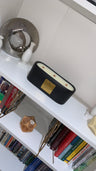 3 Wick Large Baguette Statement Candle
Free Uk Delivery On All Orders Over £10. (Shipped usually within 1-3days)